INVISALIGN® TREATMENT
There has rarely been a better time to get your teeth straightened using the world's most sophisticated clear aligner. Our orthodontist in North Miami Beach, FL, Dr. Jordan Jones, is proud to be a licensed provider of Invisalign clear aligners that provide a clear, simple, and pleasant solution to get the smile you've always wanted. We provide Invisalign services for teenagers and adults at Esteem Braces & Aligners. So don't miss out on our fantastic Invisalign offers at our dental office in North Miami Beach, FL.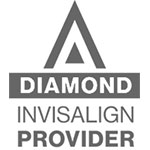 WHY SHOULD YOU OPT FOR INVISALIGN TREATMENT?
Faster treatment: With weekly aligner changes, you'll be closer to your dream smile in no time. We may explore longer durations between aligner modifications depending on your reaction to treatment, especially in mature individuals.
Proven results: Clinically demonstrated to enhance tooth control of the movement with Invisalign clear aligners, the SmartTrack material, and SmartForce features.
Better fit: SmartTrack aligners are more relaxing, fit well, and simple to put on and take off.
Virtually invisible: Because Invisalign aligners are virtually invisible, most individuals will be unaware that you are undergoing treatment.
Effective: Crossbites, crowding, open bites, crimped teeth, overbites, and underbites are just a few of the teeth-straightening disorders that Invisalign transparent aligners can help with.
Comfortable: The clear aligner trays from Invisalign are not only sleek and comfy, but they're also removable. That means you can go about your daily routine as usual, from brushing and flossing to eating whatever you want.
Convenient: Because you need to visit our office every six weeks, Invisalign treatment is great for your hectic schedule.
ESTEEM BRACES AND ALIGNERS OFFER THE INVISALIGN TREATMENT!
AN INITIAL CONSULTATION
We will discuss your orthodontic issues and determine whether Invisalign treatment is best for you during your initial consultation with our orthodontist.
YOUR PERSONALIZED TREATMENT PLAN
To create rapid, exact 3D digital photos of your teeth, we'll utilize a scanner like the iTero® digital scanning equipment. Then we'll lay out a detailed treatment plan for you, detailing how your teeth will shift and how long it will take. You'll even get a sneak peek of how your teeth will function and how your new grin will look.
YOUR CLEAR INVISALIGN ALIGNERS
Invisalign's proprietary SmartTrack material will be used to create your bespoke aligners. However, because they're nearly undetectable, most individuals probably wouldn't notice you're wearing them while straightening your teeth.
To achieve the best results, wear your Invisalign clear aligners for 20 to 22 hours per day, removing them only to eat, brush, and floss.
YOUR PROGRESS
Your teeth will progressively shift into position as you wear each pair of aligners. Therefore, we may advise that you start wearing a new set of aligners each week visit us every six weeks for checks.
LOOK AFTER YOUR NEW SMILE
Inquire about a Vivera retainer once your treatment is completed. Vivera retainers are created to order utilizing the same cutting-edge technology that goes into Invisalign transparent aligners.
Please feel free to contact us at the dental office in North Miami Beach, FL, to learn more about the Invisalign system and all of your orthodontic treatment choices. We're excited to meet you and assist you in achieving a grin that moves!