MEET DR. JORDAN JONES
YOUR NORTH MIAMI BEACH ORTHODONTIST!
You have heard how if you choose a job you love, you'll never work a day in your life, right?
It is a common enough sentiment, but there is also a lot of truth to it:
The practice of orthodontics is a joy. I wake each morning looking forward to the day ahead and the people I will spend the day with. Nothing is more rewarding than bringing a smile to someone's face: as an orthodontist, I make sure that smile is healthy, beautiful, and filled with confidence!
Orthodontics is a unique oral healthcare specialty, as the people I see and treat are here because they're choosing to improve their lives. Their excitement at starting the journey is infectious and seeing how each becomes happier and more outgoing as they see the change in their appearance is inspiring. The day treatment is finished and the new smile is revealed is the best: my patient can't stop looking in the mirror and beaming, so proud of all they have accomplished!
For me? I am thrilled to have provided a life-changing service for a person who started treatment as a patient and who has become my friend. The journey we took together, as partners in their smile's improvement, is nothing short of amazing!
As a North Miami Orthodontist, this is "all in a day's work," for me – and yes, it doesn't feel like work, at all!
EDUCATION AND CONSTANT LEARNING
I grew up here in Miami and returned to open my practice, serving a community I know and love. Prior to practicing orthodontics, I completed my:
Bachelor of Science at Lincoln University
Doctorate of Dental Surgery (DDS) at Howard University College of Dentistry
Certificate in Orthodontics and Dentofacial Orthopedics at Howard University College of Dentistry
Dental school and my residency gave me a solid foundational understanding of oral health, the mechanics of tooth movement, and aesthetic considerations.
However, the orthodontic specialty is constantly advancing. Research leads to new techniques, as well as innovations in technology, materials, diagnostics, and the patient experience. With continuing education, I stay current on the latest trends and leading-edge developments, ensuring I am providing the most advanced care to my patients.
I am a member of the:
Through these organizations, I learn from leaders in the specialty and incorporate that knowledge into my office. If you are looking for a North Miami Orthodontist, call me today!
BEYOND THE PRACTICE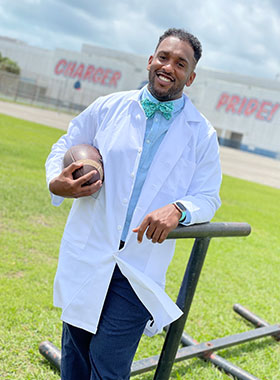 Living in Miami means there are always things to do and explore. I enjoy the diverse cuisines and cultures the area offers, as well as attending Heat, Canes, and Dolphins games, working out and being a beach bum. Above all else, I treasure time with my son, Jordan Junior.